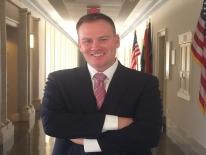 Elliot J. Tommingo is the Director of the Mayor's Office of Veterans Affairs (MOVA). Director Tommingo served for 18 months as a MOVA Outreach Specialist and Public Information Officer, where he drove online messaging, event coordination and partnerships. He is currently a Major in the US Marine Corps Reserves.
In 2006, Elliot enlisted in the USMC Reserves while attending Iowa State University and was assigned to Echo Co, 2nd Bn, 24th Marines as an 0311 Rifleman. Upon graduating ISU in 2009 with a BA in Political Science, LCpl Tommingo was commissioned as a 2ndLt and began active duty service.
After graduating The Basic School and Communications Officer Course in Quantico, Virginia, 2ndLt Tommingo was stationed throughout US Pacific Command from 2010 – 2013 serving in Japan, Republic of Korea and The Philippines. He supported multiple humanitarian missions and assisted the ROK and Filipino militaries with defensive operations. From 2013 – 2016 Capt. Tommingo was stationed in the National Capital Region with Marine Corps Combat Development Command as a Requirements Officer overseeing the USMC software programs.
Capt Tommingo left active duty service in July 2016 and returned to the USMC Reserves as the Communications Officer for Marine Wing Support Squadron 472 out of Ft Dix, NJ. In Jan 2019, he was promoted to the rank of Major and appointed Director for MOVA. Director Tommingo is a loyal D.C. United soccer fan and an uncle to two amazing nieces. Vamos United!!! Semper Fi.