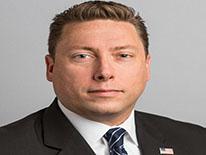 Ely S. Ross is originally from Eagle River, Alaska. This third-generation veteran understands the value of a career in public service. Ely spent many of his early years moving from military post to military post and ultimately graduated from Seoul American High School on Yongsan Army Garrison, Seoul, Republic of Korea. After graduation, Ely enlisted in the United States Marine Corps and attended basic training at Marine Recruit Training Depot, San Diego. After basic training, Ely attended a number of schools and was designated as an Aviation Crew Chief on the CH-53D Sea Stallion. He was permanently stationed with Marine Heavy Helicopter Squadron 362 (HMH-362) the "Ugly Angels" located on Marine Corps Base Hawaii, Kaneohe Bay. During his time at HMH-362, Ely held management positions in flight operations, maintenance and quality assurance. His forward deployments with HMH-362 included Japan, Malaysia, Philippines, the Republic of Korea, Singapore, Thailand and Iraq during Operation Iraqi Freedom.
After nine years of service, Ely was honorably discharged from the United States Marine Corps and moved back to the mainland to attend Penn State University's Dickinson School of Law with the goal of continuing his public service career. At graduation, Ely was one of a select number of graduates to be inducted into the Order of the Barristers. After graduation Ely was awarded a Presidential Management Fellowship, and he served in advisory positions with both the General Services Administration and the US Department of Veterans Affairs. Ely accepted a permanent attorney position with the US Surface Transportation Board where he currently serves, focusing on transportation law, economic regulation and alternative dispute resolution.
Ely is a proud DC resident, uncle of two precocious kids, and is an avid Washington Nationals fan.