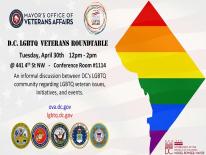 Last Date:
Location:
Conf Room #1112 (11th Floor)
Details:
Join the Mayor's Office of Veterans Affairs (MOVA) and Office of LGBTQ Affairs, as we proudly co-host the DC LGBTQ Veterans Roundtable.
This event supports military veterans who identify as LGBTQ, and is open to all LGBTQ, community activists, medical providers, veterans advocates, and allies of the LGBTQ community. The goal of the event is to identify and discuss obstacles faced by members of the LGBTQ veterans community in seeking benefits and services, as well as to hear stories and examples of how such obstacles have been and can be overcome.