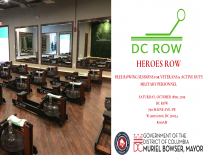 Last Date:
Details:
Dear Veterans, Active-Duty Military Personnel and First Responders we would like to thank you for your service by inviting you to Heroes Row
Are you looking to add cardio to your fitness routine? Make plans to participate in the exciting Heroes Row event at DC Row
Benefits of Attending Heroes Row: With the guidance of a knowledgeable instructor and blend of vibrant music, rowers will be able to get a full body workout along with a sense of personal satisfaction. DC Row allows patrons to access rowing workouts in an indoor environment without having to travel outside the inner city. (and its all complimentary)
About DC Row: Located at 790 Maine Ave, SW (Along the DC Wharf) DC Row is DC's first and only strictly rowing fitness studio. DC Row offers an exciting new take on high intensity low impact group workout training.
This "boutique style" fitness studio comes equipped with 20 rosewood finished water rowers, each accompanied by an S4 performance monitor that tracks time, distance, speed, stroke rate, and heart rate.
A fully functioning unisex bathroom is offered, with two private toilets and shower stalls, and storage areas for personal belongings. Toiletries, towels, and blow-dryers will all be made readily available.
Contact: For additional inquires about this event, contact Ms. Brittany Bunch at: [email protected]