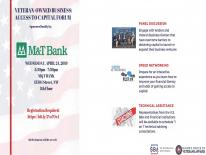 Last Date:
Location:
M&T Bank @ 1350 I St NW - Suite #500 (5th Floor)
Details:
Access to Capital! Sure, you've heard the term...but what does it really mean? Are you prepared to successfully apply and manage the funding once approved?
Join the Mayor's Office of Veterans Affairs for an opportunity to engage with the US Small Business Administration, Financial Institutions and Veteran Business Owners that have successfully obtained and managed financial capital!
What's in it for you:
Mini Speed Networking Session with local small business experts
Participation: Opportunity to ask first-hand questions to Veteran Business Owners that have overcome barriers to obtaining capital to launch or expand their business ventures
Network with representatives from the U.S. SBA, financial institutions and fellow veteran small business owners
Prepare for an interactive experience in improving your financial literacy and odds of gaining access to capital!
Refreshments will be served
The DC Mayor's Office of Veteran's Affairs has partnered with the DC Department of Small & Local Business Development (DSLB) to provide support to the Veterans' Business Stakeholders. MOVA and DSLBD host a monthly Stakeholder Meeting to provide support to the VOSB community through a local entrepreneurial ecosystem. For additional details, please contact MOVA: 202.724.5454