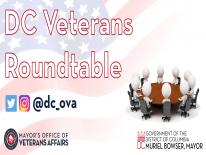 Next Date:
Thursday, August 29, 2019 -
Details:
The DC Mayor's Office of Veterans Affairs (MOVA) hosts a monthly roundtable on Thursday, July 25th from 12:00pm-2:00pm at 441 4th St.NW on the 11th Floor in Conf Room #1114
Focus of August's veteran roundtable will be on the DC StateHood Campaign and upcoming Sept 19th Congressional Hearing. Please come prepared to discuss statehood ideas and ways that DC veterans can get involved!
A presentation from USPS on veteran employment will also occur.
Roundtable Ground Rules
Silence all mobile devices
The roundtable centers on discussion and deliberation, it is not a debate
Prepare to be an active listener
Don't interrupt, let others finish speaking before you begin
Personal attacks are not acceptable, respond to the issue, not the individual.
All participants shall conduct themselves in a dignified manner
For accessibility accommodation requests or if you have general questions, please reach out to [email protected]