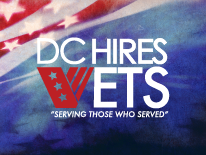 Last Date:
Location:
2001 E Capitol St SE, Washington, DC 20003
Details:
DC Hires Vets Event: Open to all Veterans and Veterans' Spouse
"Serving those who served"
Washington, DC has a strong community of veterans who bring unique talents with their combination of skills, knowledge, and commitment to the community and the country.
VETERANS AND VETERAN SPOUSES REGISTER HERE!
The DC Department of Human Resources (DCHR), in partnership with the Department of Employment Services, the Mayor's Office of Veterans Affairs and the DC National Guard, on Friday, November 15, 2019 will host its third DC Hires Vets event offering veterans and veteran spouses the opportunity to connect with District and Federal agencies as well as private sector companies. Select participating agencies will conduct interviews and make contingent job offers on-the-spot.
Who: All veterans and veterans' spouse are invited to attend.
What: "DC Hires Vets" will offer veterans the opportunity to meet, apply, and be interviewed for positions with the District of Columbia government and private sector corporations. Further, veterans can meet directly with District agencies and those Federal agencies that provide services to veterans.
Where: D.C. Armory, 2001 E Capitol St SE, Washington, DC 20003
When: Friday, November 15, 2019; 10:00 a.m. to 3:00 p.m.
Participant Requirements
Attendees must bring one of the following documentation to the event (only one is required):
DD-214 Discharge Form

Military ID

VA Card

Letter from an assisted veterans' home indicating status as a veteran.

Other equivalent documentation
Parking | Metro
Parking lot 3 (located across from the armory entrance) is reserved for all event attendees.
DC Armory is accessible by Metrorail. Take the blue/orange/silver line to Stadium Armory and follow the signs to exit the station toward the stadium.
Contact
For additional information or questions, please contact the DC Department of Human Resources at [email protected] or 202.442.9700