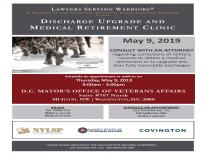 Last Date:
Location:
7th Floor and 11th Floor Office Spaces
Details:
CALL 202-265-8305 (Ext.# 152) TO BOOK A ONE HOUR APPOINTMENT
On Thursday, May 9th, MOVA is partnering with the National Veterans Legal Services Program (NVLSP) and Covington Law, to provide DC veterans a pro-bono DD-214 upgrade review clinic and information on medical retirement/military records.
Any DC veteran can call the number listed above to set an appointment, during which you'll consult with an attorney regarding correctrions of military records to obtain a medical retirement or to upgrade less than fully honorable discharges.
Appointments will be held on the 7th and 11th floors of 441 4th St NW.