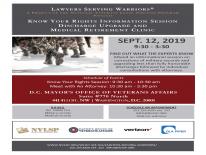 Last Date:
Location:
MOVA Offices at 441 4th St NW
Details:
On Thursday, Sept 12th (9am - 3pm) @ 441 4th St NW - Suite #707N, MOVA is hosting the National Veterans Legal Services Program DD-214 Upgrade Review and Medical Retirement Legal Clinic, conducted by licensed attorneys. If you have questions about your discharge status or whether you qualify for medical retirement, come out and join us.
For an appointment call 202-265-8305 (ext. 152)
-- WALK IN's ARE WELCOME ON Sept 12th--
Having a less than honorable discharge can prevent a veteran from accessing U.S. Department of Veterans Affairs benefits and services including health care and other social services as well as District level programs and benefits. The Mayor's Office of Veterans Affairs is dedicated to ensuring that the service of our veterans is reflected in their military records so that they may be able to fully access the services and benefits they have earned.
All branches of the military consider you to have a strong case for a discharge upgrade if you can show your discharge was connected to any of these categories:
Mental health conditions, including post-traumatic stress disorder (PTSD)
Traumatic brain injury (TBI)
Sexual assault or harassment during military service
Sexual orientation (including under the Don't Ask, Don't Tell policy)