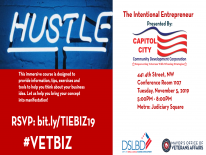 Last Date:
Location:
Conf Room #1112 (11th Floor)
Details:
You have an idea for a business. Now what?
The idea. That's where it starts, Now, what do you do with the idea? You could start a business - but could you start a viable business? Find the answer with Kauffman FastTrac
Kauffman FasTrac is a flexible course with a solid framework to support you as you start and begin your journey to success.
You'll Work To:
Discover how your business concept matches your personal vision.
Align your business concept with a real market opportunity
Learn how to set realistic financial goals for your business
Determine the unique features and benefits of your product/service
Find your target market and discover your competitive advantage
Define your company's brand and marketing
Learn how to manage business functions and develop and organizational culture
Determine the steps to profitability
Identify potential sources of funding for your business
Launch your business
Limited Street Parking is available near the venue, the closest Metro station is Judiciary Square (Please use the 4th Street Exit)
For accessibility accommodation requests or if you have general questions, please reach out to [email protected] or call (202) 724-5454