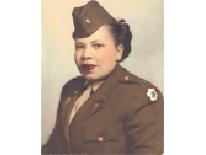 Army Nursing Corps - US Army 3449 Army Nurse
World War II and Korean War Veteran: 1945-1955
US Army Nurse Corps
Locations of Service
European Theater of Operation and USA
Medals
American Theater Ribbon, World War II Victory Medal, Korean Service Medal, United Nations Service Medal and other commendations

Iradelle C. Byars was born September 6, 1921 in Danville, VA. On April 16, 1945, she enlisted into the US Army Nurse Corps. Assigned to Camp McCoy, WI, for basic training she worked as a nurse to hospitalized Japanese prisoners of war. She was then assigned to the Army Hospital at Fort Meade, MD, where she tended to German prisoners of war, ranking from privates to generals. She married Sgt. 1st Class Bennie Byars on June 6, 1948; they have two children. She also had the experience of working with North Korean prisoners of war. On October 15, 1955, after serving 10 and a half years in the Army, Capt. Byars retired from the Army Nurse Corps and made her home in Washington, DC. She was employed at Walter Reed Army Medical Center where she worked until she retired in 1979.

Mrs. Byars spends her retirement enjoying her three grandchildren and participating in various church activities at St. Paul AME Church. On May 30, 2005, she rode alongside the National Memorial Day parade's Grand Marshall Mayor Anthony A. Williams. On June 25, 2005, she received a Letter of Appreciation on the 50th Anniversary of the Outbreak of the Korean War, signed by President of the Republic of Korea, Kim Dae-Jung.

Iradelle C. Byars, a proud World War II and Korean War veteran and District resident, the District of Columbia proudly salutes you!