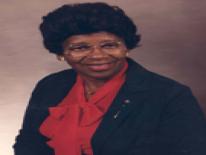 Pvt. 1st Class Effie W. Johnson
Bakers & Cooks School QMC
World War II Veteran
: 1943–1944
Private First Class–US Army
Locations of Service
North Carolina, Kansas and Iowa
Effie Johnson was born on August 3, 1921, in Roxbury, North Carolina. In 1943, she enlisted in the US Army, just one year after African-American women were allowed to enter the military. Effie was stationed at a segregated post known as Fort Des Moines in Iowa. While there, she trained at the Army's Cooks and Bakers School.
After the service, Effie returned to school and soon became the first black cashier in Chapel Hill, NC. In the early 1960s, she moved to the District of Columbia and helped to open one of the first Holiday Inns located in the District. Effie retired from the hospitality industry many years ago; however, she continues to be active in various organizations, including: the Montford Point Marines–Chapter 6, the American Legion, American Legion Auxiliary and the Women's Army Corp Veterans' Association.
For her dedicated service during World War II and for her continued service to the community: Effie Johnson, a proud World War II veteran and District of Columbia resident, the District of Columbia proudly salutes you!