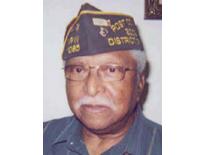 World War II Veteran: 1944–1946
Corporal–US Marine Corps
Locations of Service
Asiatic-Pacific Theater
Medals
Asiatic-Pacific Campaign Medal, American Defense Service Medal,
World War II Victory Medal
Emanuel G. Lee was born in Detroit in 1926. He was called to military service in 1944. However, he received a deferment to complete his high school education. Emanuel attended the former Armstrong Technical High School, the first public high school for African Americans in the District, where he excelled in physics and chemistry. When he finished school, he trained at the legendary Montford Point Camp. At that time, the Marine Corps was still segregated and African-American troops slept and ate at nearby Camp Lejeune.

Emanuel is proud to have helped pave the way for other men and women of color, who are now recognized with the dignity and honor they so richly deserve for their proud military service.
For his dedicated service during World War II: Emanuel G. Lee, a proud World War II veteran and District of Columbia resident, the District of Columbia proudly salutes you!