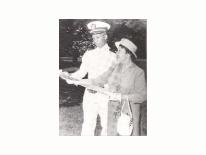 First African American Graduate of the US Naval Academy
Korean War, Vietnam War Veteran
US Navy, May 2, 1944–June 30, 1969
Locations of Service
Republic of the Philippines and Guantanamo Bay, Cuba
Medals
American Theater Ribbon and World War II Victory Medal
Lt. Cmdr. Wesley A. Brown was born April 3, 1927 in Baltimore, MD. He graduated from Dunbar High School, where he was Cadet Corps Battalion Commander during his senior year.
A retired naval officer, Lt. Cmdr. Brown became the first African American to graduate from the US Naval Academy (USNA) in Annapolis. He was nominated for admission and later appointed to USNA, by New York Congressman Adam Clayton Powell. Brown entered the academy in 1945 and graduated in June 1949. The recently published Breaking the Color Barrier: The US Naval Academy's First Black Midshipmen and the Struggle for Racial Equality documents the experiences of the first five African Americans admitted to the academy and the challenges Brown and the others faced.
Brown retired in June 1969 after serving 20 years in the Navy's Civil Engineer Corps. There Brown was responsible for building military service member homes in Hawaii, roads in Liberia, wharves in the Philippines, a nuclear power plant in Antarctica, and a desalination plant in Guantanamo Bay, Cuba. When he retired, Brown consulted on construction projects and joined the faculty at Howard University as a physical facilities analyst. He served as chairman of DC's Congressional Representative Eleanor Holmes Norton's Service Academy Selection Board. The Naval Academy has announced that the Wesley Brown Field House, a multimillion-dollar sports facility will be built in March 2006 in his honor.
Brown and his wife Crystal enjoy visits from their four children and seven grandchildren, and read and attend social and sporting events. Brown is a volunteer motivational speaker and particularly enjoys talking with DC high school students and midshipmen of the USNA Black Studies Club during Black History Month.
Wesley A. Brown, a proud US Naval Academy graduate and Korean, World War II and Vietnam War veteran and District resident, the District of Columbia proudly salutes you!