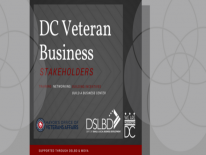 Veteran Small Business Stakeholders
The DC Mayor's Office of Veteran's Affairs has partnered with the DC Department of Small & Local Business Development to launch a monthly Veterans' Business Stakeholders meeting (held the first Tuesday of each month) which consists of members from the veteran entrepreneur community with businesses headquartered in Washington, DC. The aim of this meeting is to build stronger support for our local veteran businesses through government and community support. Overall, MOVA is exploring the creation of programs to better serve the needs of the District's vetreprenuers.
We held our first meeting on December 2017, and are building regular, monthly engagements. Stakeholders are always an open forum, and anyone interested in the topic is welcome and encouraged to come out. If you require accommodations, please do not hesitate to reach out to [email protected] or give us a call at (202) 724-5454.
Business Development Support
Are you interested in working on your business plan? Would you like free, one-on-one confidential counseling as you do so?
The Department of Small & Local Business Development (DSLBD) is partnering with the Howard University's DC Small Business Development Center (SBDC) to provide additional small business counseling and technical assistance offerings at DSLBD.
An SBDC counselor, Felipe Peres, is onsite at DSLBD on Wednesdays to provide free, confidential business counseling for any stage business. To sign up for an upcoming counseling session select a date & time here. To ask questions, please feel free to reach out to [email protected] and [email protected].
If you register for a ticket from this event, that will confirm the time available for YOUR appointment with Felipe at DSLBD. We look forward to further supporting your DC business.