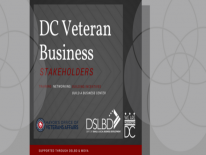 Veteran Small Business Stakeholders
The DC Mayor's Office of Veteran's Affairs has partnered with the DC Department of Small & Local Business Development to launch a monthly Veterans' Business Stakeholders meeting (held the first Tuesday of each month) which consists of members from the veteran entrepreneur community with businesses headquartered in Washington, DC. The aim of this meeting is to build a stronger support for our local veteran businesses through government and community support. Overall, MOVA is exploring the creation of programs to better serve the needs of the District's vetreprenuers.
We held our first meeting in December 2017, and are building regular, monthly engagements. Stakeholders are always an open forum, and anyone interested in the topic is welcome and encouraged to come out. If you require accommodations, please do not hesitate to reach out to [email protected] or give us a call at (202) 724-5454.
TOPIC: Contracting Opportunites with DC Government
The focus of this months meeting will greatly benefit entrepreneurs that are interested in conducting business operations as a contractor for DC Government. Click Here to register and reserve your seat!
Come out to learn about the programs offered through the Office of Contracting and Procurement (OCP) including:
Where to find opportunities to conduct business with DC government
Required documents for successful solicitation submissions
How to navigate the new automated DC Supply Schedule application process
Understanding the benefits of the Simplified Acquisitions Program through OCP
Upcoming Stakeholder Meetings (All meetings will be held at 441 4th Street, NW Washington, D.C. 20001 Conference Room 1117)
Tuesday, June 5, 2018
Tuesday, August 7, 2018
Tuesday, September 4, 2018
Are you an aspiring entrepreneur?
Check out our Veteran Small Business Development webpage! Equipped with the step by step process to forming a business and loads of valuable information to developing a business in the District.