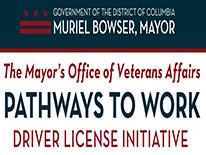 MOVA PATHWAYS TO WORK PROGRAM FOR DC VETERANS
Mayor Bowser wants to ensure that, in Washington DC, veterans have minimal barriers to employment and the tools (like a driver license) necessary to find a job.
The Mayor's Office of Veterans Affairs (MOVA), working in partnership with the Department of Motor Vehicles (DMV) and the Central Collection Unit (CCU), has launched a program designed to help District veterans who cannot afford a driver license because of debt from tickets, insurance lapse, booting, towing, or impounding.
This program will allow eligible DC veterans the option to obtain a two year driver license while not beginning payment on their debt for up to six months. It will also allow the option to settle their debt outright for a reduced rate of 40% or more. The goal of the program is to assist the District's
veterans in their efforts towards gainful employment.
DC Veteran Eligibility:
• Must be a DC Resident
• Must be a veteran of the US Armed Forces
• Must be unable to obtain a DC driver license because of debt resulting from tickets, insurance lapse, or Department of Public Works fees (booting, towing, impounding)
• All tickets must be over 90 days old
Full Program Details One Sheet